Taekwon Kid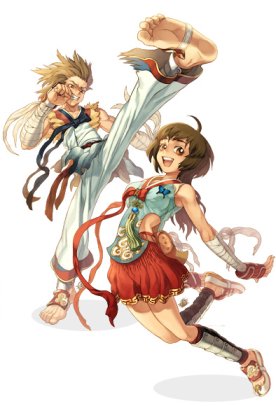 Taekwon Kid is one of the new Expanded Character Classes. The Taekwon Kid practices the martial art of Taekwon Do, a style which uses kicks to attack. Because of this, taekwon kid cannot equip any weapons, and must rely on thier own strength to do damage.
Any novice can become a Taekwon Kid once they reach job 10, by applying at the job change NPC in the City of Payon. Taekwon characters follow the same exp curve as regular classes, and can change to second class at job level 40, though they can continue up to job 50 if they so chose.
A Taekwon Kid may elect to class change to either a Taekwon Master, or Star Knight. A Taekwon Master is a Taekwon user who is in tune with the celestial bodies, and uses the power and knowledge of books to power his attacks. A Soul Linker is a mage like spiritualist who aids others by blessing them with new skills and abilities.
A third option exists. A Taekwon Kid may chose not to class change, and instead through the use of the skill Taekwon Mission, attempt to become one of the top 10 Taekwon Kids. These top 10 ranked players gain extra stats and abilities, which makes it a worthy prospect.